We are looking forward to meeting all early career scientists in polar research in Sweden at this year's Polarforum.
On November 23, 2016 at the Maritime Museum, we'll spend an afternoon with networking and activities supporting young scientists in developing a successful career.
To REGISTER, fill in the form available HERE.
A preliminary program is now available: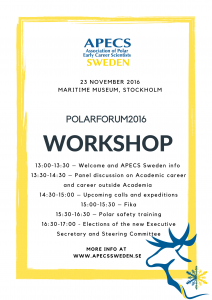 13:00-13:30 – Welcome and APECS Sweden info
13:30-14:30 – Career Development: Panel discussion with Veijo Pohjola, Åsa Lindgren, Karen Assmann, Sandrine Testaz
14:30-15:00 – Upcoming calls and expeditions: Information from SPRS
15:00-15:30 – Fika
15:30-16:30 – Polar safety with Henrik Tornberg (SPRS): Getting things in order. Communication devices
16:30-17:00 – Elections of the new Executive Secretary and Steering Committee (More info)
Early career scientist who travel from other locations in Sweden outside Stockholm and Uppsala counties can apply for a travel grant to participate in Polarforum. To apply, fill in the relevant fields in the registration form.