It's the end of my election period as the Executive Secretary and I would like to give you a brief overview of what we've achieved in the revived APECS Sweden this year.
We organized a screening of Hanna Ljungh's film 'I am a mountain, to measure impermanence', followed by a mingle and discussion with Hanna Ljungh and Prof. Gunhild Ninis Rosqvist, Director of Tarfala Research Station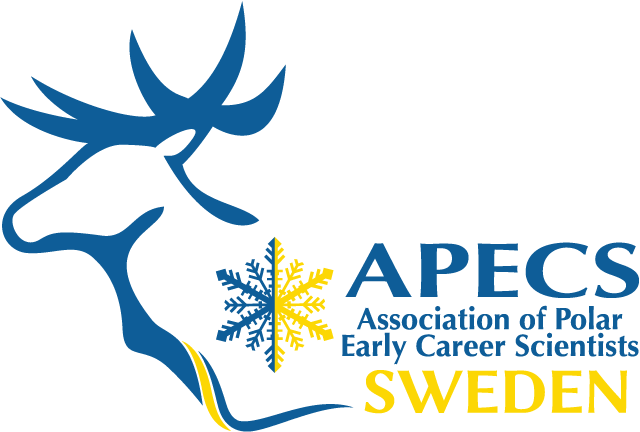 We tried to spread important or useful information through our social media channels – including our Twitter profile, Facebook page and Facebook group.
We used the new logo for branding and during Polarforum we distributed dozens of our new beautiful mugs and bags.
We held a workshop during the Polarforum.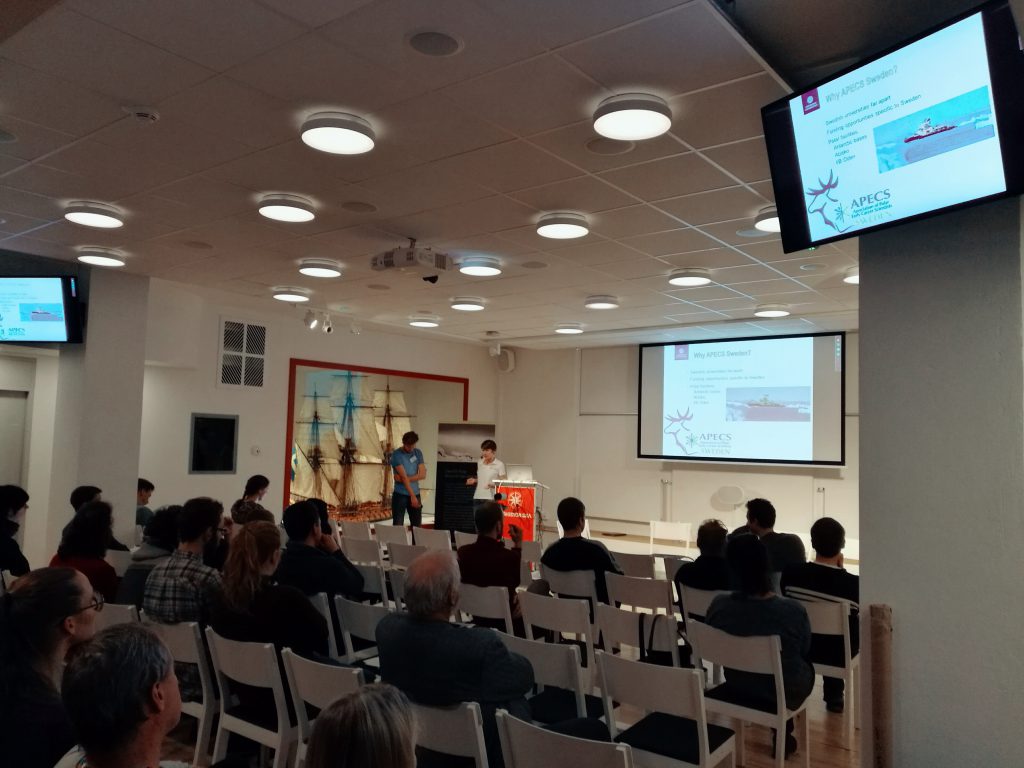 We had a very motivating panel discussion with Veijo Pohjola, Åsa Lindgren, Karen Assmann, and Sandrine Testaz. They answered questions about the reasons for becoming a scientists, for leaving/staying in Academia, about the main obstacles in their career path and their advice for polar early-career scientists of today.
For example, when asked about what skills make us employable, the answers where:
Veijo: Persistance.
Karin: Resourcefulness and problem-solving.
Åsa: Multitasking, open-mindedness, flexibility and the ability to find solutions rather than problems.
Sandrine: Being nice and agreeable.
We also got presentations and valuable information from Polar, specifically from Ulf Jonsell and Henrik Tornberg.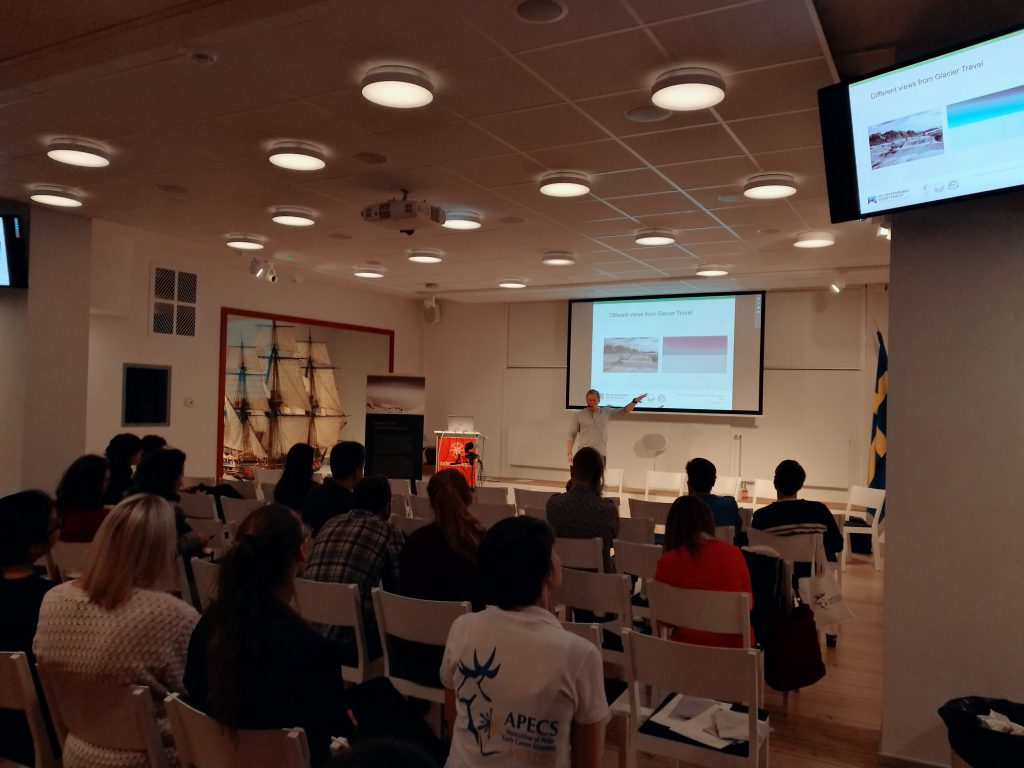 Henrik explained how to get things in order before going to the field, how to stay safe, and how to plan even for the unexpected. His advice includes:
– When packing, don't think about equipment, but about the processes – how do I do things?
– Remember spares and repairs.
– If you take the safer option, but misuse it, it's not safer anymore.
– Learn to know your stove and walk out your shoes.
– Plan for 120% of field work.
– If you take care of yourself and of each other, you will last longer and perform better.
– Don't be afraid to make mistakes, but keep it small mistakes.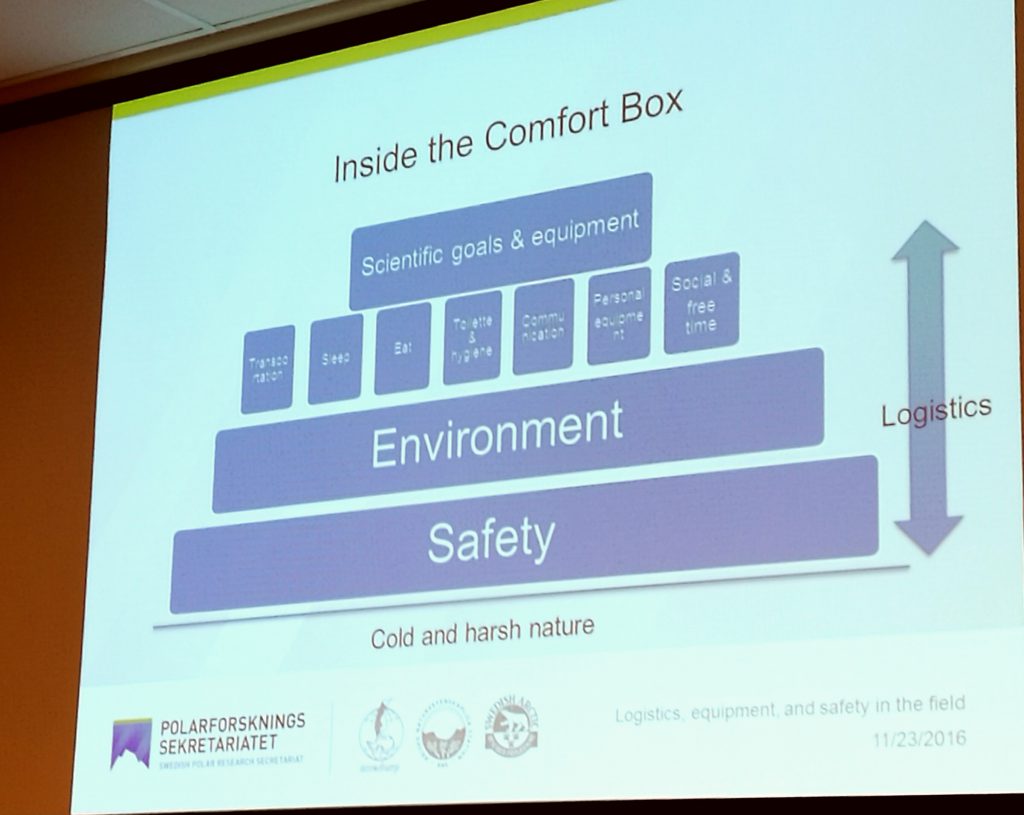 We put together our association's statutes and adapted them at the Polarforum meeting, which thus became our first official annual meeting, establishing APECS Sweden as a non-profit organization. The steps have been taken to get an organization number and become a registered organization.
And finally, we elected members of the Steering Committee for 2017 and a new Executive Secretary, Céline Heuzé from Gothenburg University.
What remains for me now is to thank everybody who helped kick this off and get APECS Sweden back on track. A special thanks goes to Ulf Jonsell, Åsa Lindgren, and Polar in general, for supporting us. And thanks to all of you for joining us during the events, getting in touch through the social media, and creating a stimulating polar community for early-career scientists.
Over to you, Céline!